Dear Bob
Your performance last night was really up to your great fame. You managed to pamper the audience with your new sound. New, because I was expecting you to come on on stage with your harmonica and your guitar singing "Hurricane" "How does it feel" or some other pearl from your rich repertory.
One thing I noticed that really left me disappointed was the absolute absence of any salute or greeting to the crowd that paid at least 100$ just to see you playing. From the "wisdom" of your 78 years you managed to create a new style that mixes the base of a great cool jazz with some pop, rock, swing that appealed so much to the "over fifty" crowd here in Jesolo Beach
In order to take these photos I had to do some somersaults avoiding the gorrillas that were going to an fro trying to catch anyone trying to shoot a short video, or just a photo with the smartphones , as if they were criminals trying to shoot him down. Too bad so sad . I had to dig on the bag of my experience as a photojournalist to be able to take these picts. Believe me, if you had let at least a few professional photographers in, it would have been better for you and your image. I was told that the images rights were sold to a company named D'Alessandro e Galli. You probably don't know about all this, you have a staff working constantly with you and I am sure that they manage the public relations. I thought of you as a cool man, a nice dude, with a great heart and a passion for writing the texts of your beautiful songs. From last night I think that you shoud humble yourself and come down to earth again with us mortals. Today, if anyone asked me what I think of you I'd answer "a scumbag". I bow my head to the Nobel Price that was given to you, but as far as relation with your public you are really down the gutter. Sorry if I'm being so direct with you , and I know that you'll never get to read this letter of mine, still I wanted to express my feelings. You started the concert without even saying hello, you played with your fantastic band for two hours and out the door you went. You did your job, but wasn't it more about passion? I'm disappointed Bob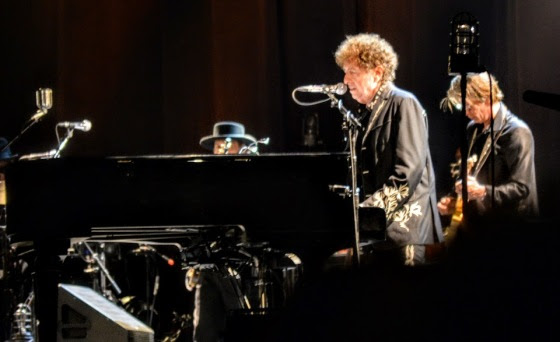 Bob Dylan and his band performing in Jesolo Beach (Italy) Last night.