Codognè Treviso Veneto Italy YouTube Google plus Facebook Twitter Linkedin Scoop it Stumble Upon Pinterest. In every social platform I try to be, to spread my web wings out to the world Photography and writing move my steps.My roots are here where my Ancestors lived for Centuries.Search Engines &Robots SEO marketing IOS androids
Saturday, October 12, 2013
(
by pio dal cin) Codognè ( °copyright 2013 pio dal cin- la riproduzione della foto anche parziale è proibita )
Pubblicato da

pio dal cin
a 11:46 PM


Link a questo post
Etichette: barcellona, codognè, Companies, coppa dei campioni, google, Google+, Milan, Search Engines, Searching, Social media, steaua
Tuesday, June 25, 2013
(by pio dal cin) Silvio Berlusconi
has been given 7 years by the
Milan
Tribunal for the trial in the so called "
Ruby
's Case". Charged with two counts of minor's prostitution Berlusconi has been interdicted to the participation of public offices
(
Read originall press release here
) by www.ANSA.it
The tribunal has inflicted one year more than the six asked by the
public prosecutor
Boccassini. Ruby is now in
Mexico
with her companion Luca Risso.
Silvio Berlusconi reacted to the sentence saying " I was really sure that I would not get charged with this, because in the facts there wasn't any possibility of finding me guilty. The sentence is one of extreme violence, trying to erase me from the political life of this Country. I will resist though because I am absolutely innocent and do not want to give up my fight to make of Italy a Free and Just Country . It is an offense against all those Italians who believed in me and trusted my comittment to the Country"
BERLUSCONI: SENTENZA VIOLENTA, IO RESTITO A PERSECUZIONE
- "Ero veramente convinto che mi assolvessero - sottolinea Silvio Berlusconi in una nota - perché nei fatti non c'era davvero nessuna possibilità di condannarmi. E invece è stata emessa una sentenza incredibile, di una violenza mai vista né sentita prima, per cercare di eliminarmi dalla vita politica di questo
Paese
". "Non è soltanto una pagina di malagiustizia - aggiunge - è un'offesa a tutti quegli italiani che hanno creduto in me e hanno avuto fiducia nel mio impegno per il Paese. Ma io, ancora una volta, intendo resistere a questa persecuzione perché sono assolutamente innocente e non voglio in nessun modo abbandonare la mia battaglia per fare dell'Italia un paese davvero libero e giusto". "Non è soltanto una pagina di malagiustizia, è un'offesa a tutti quegli italiani che hanno creduto in me e hanno avuto fiducia nel mio impegno per il Paese". Lo afferma Silvio Berlusconi nel commentare la sentenza milanese sul caso Ruby.
Pubblicato da

pio dal cin
a 12:03 AM


Link a questo post
Monday, March 11, 2013
Silvio Berlusconi - Caricature (Photo credit: DonkeyHotey)
(by pio dal cin) Monday March 11th 2013
As the trial against Silvio Berlusconi begun today in Milan (the third in fitfteen days) the leader of the Pdl (the party founded by the richer man in Italy) Alfano, marched with about twenty other members of the party to the Palace of Justice in Milan, to show their support for their leader whom they claim to be " a victim of the Justice for twenty years".
Berlusconi was hospitalized a few days ago with a retina problem, but the judges feared that he was trying to avoid the trial in order to make his case fall due to timing procedures.
It is completely absurd that a man who can afford paying his divorced wife a tab of 100 thousand Euros ($50 thousand) a day with a 35million Euros income a year, have to be defended politically by his party members.
Italy is going trough a very delicate moment, socially and politically, it is time to stop worrying about Silvio Berlusconi's problems and worry a bit more about the poor people who are struggling to survive amid the worst economic crisis.
Stop the bullshit. Let the judges do their work. Stop whining every time Silvio Berlusconi goes to trial.
Pubblicato da

pio dal cin
a 11:59 PM


Link a questo post
Friday, February 8, 2013
NASA astronaut Robert L. Curbeam, Jr. (left) and European Space Agency astronaut Christer Fuglesang, both STS-116 mission specialists, participate in the mission's first of three planned sessions of extravehicular activity (EVA) as construction resumes on the International Space Station. (Photo credit: Wikipedia)
(by pio dal cin) Samantha Cristoforetti does not like the spotlight. She is an Astronaut, one on the many who have joined Google+ as you can see for yourself this is Her G+ profile her. She is Italian and She was born here
[edit]
Biography
Tuesday, January 29, 2013
Monti's visit to Earthquake's stricken areas in Emilia Romagna
(
by pio dal cin) I was really shocked yesterday to learn from the news that people who were victims of the latest Earthquake in Emilia Romagna, will still have to pay taxes.
In time of disgrace, sorrow and destruction, the Italian politicians have not found a way yet to issue a law that would actually exempt people who are victims of natural disasters to "at least" not to have to worry about paying TAXES for at least FIVE years.
A sort of a helping hand would be mostly welcomed by the people who have lost their homes, their businesses, their jobs.
Amid corruption and scandals on the daily base we hear politicians from left to right talking about Millions and Billions Euros while people are struggling to reach the end of the month.
I am not mad or angry. Today when I heard Monti saying that he "Could not do anything to lift the taxes for the Earthquake striken areas of Emilia Romagna" I had just one deep feeling of SADNESS for what politicians are doing to our beloved Italian People.
Related articles
Pubblicato da

pio dal cin
a 12:52 AM


Link a questo post
Wednesday, January 16, 2013
(
by pio dal cin) As reported here by the Huffington Post Italy, Silvio Berlusconi will "only" have to pay 19 million Euros per year instead of the 36 million established by the judge recently. The big money outpour will bring back Silvio 16,9 million Euros in tax reductions.
Veronica will have to pay that amount in taxes.
She will have a net 52k Euros a day (just about $67.000) A DAY. Not a bad jackpot after all.
http://www.huffingtonpost.it/2013/01/15/il-fisco-consolera-silvio-berlusconi-sconto-sui-redditi-di-19-milioni-per-il-mantenimento-di-veronica-lario_n_2480000.html?utm_hp_ref=italy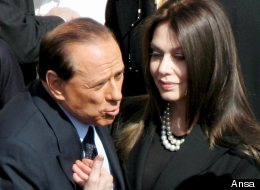 In base all'articolo 10 del Tuir
gli assegni periodici corrisposti al coniuge per la separazione o lo scioglimento del matrimonio sono deducibili dal reddito (ad esclusione di quelli destinati al mantenimento dei figli) nella misura in cui risulta dal provvedimento dell'autorità giudiziaria. I 36 milioni di euro potranno quindi essere dedotti dall'
Irpef
con uno "sconto" d'imposta (tra Irpef, contributo di solidarietà e addizionali varie) di 16.970.000 euro pari al 47,1% dell'importo versato al coniuge: il "costo" annuo della separazione sarà quindi di 19.030.000 euro.
Il Fisco, comunque, non ci rimetterà, perchè Veronica Lario, come previsto dall'articolo 50 del testo unico, dovrà pagare le imposte sull'indennità di mantenimento. A conti fatti - secondo l'esperto tributario di Fiscoequo.it - dovrà versare all'erario un importo molto vicino a quella risparmiata dal marito (16.970.000 euro) o poco meno. In tasca gli rimarrà comunque una bella cifra "al netto delle imposte": poco più di 19 milioni di euro l'anno, circa di 52 mila euro al giorno.
Come direbbe Berlusconi 100 milioni di vecchie lire ogni 24 ore.
Saturday, December 29, 2012
English: Veronica Lario, born on 19 July 1956 as Miriam Raffaella Bartolini, wife of Silvio Berlusconi Italiano: Veronica Lario, nata Miriam Raffaella Bartolini il 19 luglio 1956, moglie di Silvio Berlusconi (Photo credit: Wikipedia)
http://www.corriere.it/politica/12_dicembre_29/lario-berlusconi-separazione-milionaria-veronica-sono-sorpresa_5d248b32-5181-11e2-8bb1-ca1f42d86ebf.shtml?utm_source=twitterfeed&utm_medium=twitter
(by pio dal cin)
Who would not be Ms. Lario? You are getting One hundred thousand Euros a day, three million Euros a month 36 million Euros a year.
It is like winning the lottery everyday. If you have problems spending the money there are plenty of things you could do to help.
Pubblicato da

pio dal cin
a 8:44 AM


Link a questo post
Thursday, June 28, 2012
http://www.smh.com.au/opinion/political-news/praise-for-dalai-lama-snub-20120628-215fw.html
(by pio dal cin).
War is really unnecessary: People get killed, million suffer, cities are destroyed. What is the final purpose of a war if not the control of the
economic power
that derives from destroying your enemy?
China
has found a new way (well not so new really) of controlling the world: trought its enormous power.
No need for tanks anymore
The amazing growth that has benefitted China in the past decade has pushed its Government into pressuring other Countries in to doing diplomatic and non diplomatic acts that are not against China's General Policies.
There is not a real need for one of the few
Communist Countries
in the world like China to send troops in
Syria
in support of their longtime friend (along with
Russia
). All they have to do is to veto
the UN
resolutions and keep doing their dirty business with a bloody dictator who is preying on his own people.Why sending in tanks when all they have to do is to send a diplomatic note to any of the Western Government they control
(sadly including the USA and
President Barack Obama
) asking for what they need waging the baton of retaliation (economic) if not?
SCARED WESTERN COUNTRIES
Money rule. We knew that, there is nothing new about this ancient rule. What is happening now, is that all the Western Countries who are under the
Chinese-Communist
pressure, are kneeling to the request of what is turning out to be the "ruler of the world"
DALAI LAMA AS A TARGET
I must unfortunally point out at an Italian City, Milan, as an example of what is being perpetrated by the Chinese
His Holiness the
Dalai Lama
, is visiting Milan. The City Council decided to grant Him the
Honorary Citizenship
.
The
Chinese Government
is one of the bigger sponsor of the 2015 International Expo in Milan.
The Counsel of China sends a note to the City's Mayor (who was a leftist militant in the 70's Italian "led years) "asking" to remove the Honorary Citizenship to HH the Dalai Lama or else......
COWARDLY WITHDRAWL
The City Council obeys and refuses the honour to the Dalai Lama. The Chinese are happy. The Expo will be sponsored. The
Milan's
economy is safe.
Where are all the corageous people who fought the "
Cinque Giornate di Milano
" to free the City from the Austrian two hundred years ago? Are we going to have to kneel to the Communists after we let the Belin Wall being detroyed by the freee world?
SHAME SHAME SHAME
Here below you'll find many links of the example set by the various Government like the the French (Sarkozy had to meet the Dalai in Poland not to upset the Chinese) or the USA (Obama met Him in a back, private room but not in the official Oval Office).
SOME EXCEPTIONS
Angela Merkel, The City of Venice, The City of Rome are some of the very few examples of people who were not scared to go on and do as they wished instead of doing as
they were told.
TIBET IS STILL SUFFERING
Tibetan Monks have set themselves of fire
again
to protest the Chinese opression. There is nothing they can really do to oppose such a
Superpower.
It is time for us in the
Free West (are we really that free?)
to take a stand on these actions, how? We have the
World Wide Web
, Google+ Twitter. I have done my part. Can YOU do yours?
Pubblicato da

pio dal cin
a 11:56 PM


Link a questo post